The Doe Club was founded in 1968 with 28 members. As of February 2016 membership is at 150. The mission of the Doe Club is to promote the civic and cultural welfare of the community, fellowship with members, and to assist the Elks in carrying out their service to the community.
We assist the Elks when called upon with activities such as the receptions for Flag Day and the Memorial service. Other activities include,
Children's Easter Egg Hunt

Craft show

Co-sponsor for the annual car show.

Fall Festival in October
Donations are made each year to charitable organizations such as:
Veterans Hospital

Elk's Youth Camp

Rescue Squads

Food & funds to the local food bank

Upon request, we do the "All Night Long" Prom Party

And, many others.......
The Does raise money through raffles, bake sales, craft fair, cook book sales and by running the Bingo concession each Wednesday night.
Our meetings are held on the first Thursday of each month except April, July, August and October. During these months, our meetings are on the third Thursday. Dinner is offered to the Elks and the Does before our respective meetings.
Annual dues are $25.00 payable in April. There is a one-time initiation fee of $20.00 with your application. You receive your own name badge and key card which allows you access to the Lodge.
The Does are a worthy benevolent club.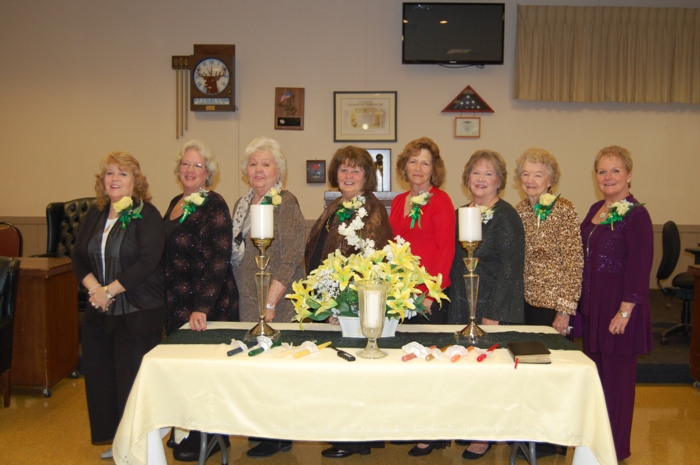 L to R: Rita Glass, Judy Brochu-Blake, Anne Bonderant, Delores Lushbaugh, Pam Thomas-Hicks, Vickie Thomas, Thelma Crenshaw, Kaye Frazier-Campbell.
2018-2019 OFFICERS
President.................................Delores Lushbaugh
Vice President.........................Judy Brochu-Blake
Recording Secretary...............Kaye Frazier-Campbell
Corresponding Secretary........Vickie Thomas-Hicks
Treasurer.................................Rita Glass
Chaplin....................................Anne Bondurant
Tiler.........................................Pam Thomas-Hicks
Parliamentarian......................Thelma Crenshaw